I honestly believe that this year (NOT next year) and next month (NOT next month) is the month and year that you'll create that website that makes money, update or re-do an already money making site or whip out that brand new stream of income…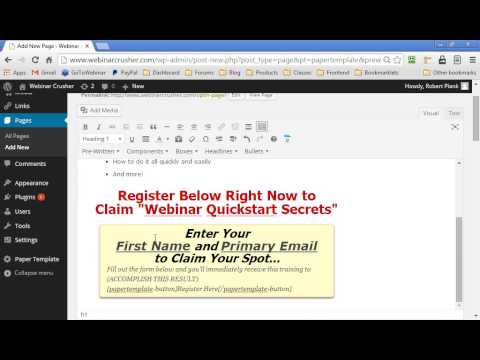 Click Here to Play Video
For a few reasons:
This thing called "WordPress" that allows you QUICKLY to point and click your way to type in whatever content you want (without a lot of technical skills)
WordPress plugins that then take what you've written and change the look and feel (for the most part, remove the sidebar) so you have a FOCUSED (single call to action) landing page
Everyone says people have a "lower attention span" these days… which means you can get away with a shorter sales letter, shorter sales video, AND if you just run a few ads (like Facebook retargeting) then you can leapfrog ahead of your competition
I know it's easy to get "confused" about which web host to use, what theme to have, which plugins, what color and font to have on your web pages… heck, I've even seen people try to "code" their own HTML web pages as if it was 1998 (and remember how those pages looked?)
Component #1:
WordPress (Posts and Pages)
Look, we both know that you're probably not in the web design business, the computer programming business, the shopping cart business. If you're doing any of this right, then you have a PASSION for a niche like guitar, learning a language, losing weight, etc.
Even as a nerdy computer programmer, I don't want to have to re-invent the wheel from scratch every time! I want to type out what I want, click a button, and it's done. Ready to collect email optins or take payments. I don't want the "solution" (a really complicated page building system with 100′s of choices) to be more confusing than the problem (not having a web page to begin with).
That's why when it comes to any web page including a blog, sales letter, optin page, webinar registration page (so I can drop a retargeting pixel), or webinar replay page…
I No Longer Upload and Edit
HTML Files on a New Site!
Instead, I point and click WordPress pages…
The next thing I need you to know about blogs and WordPress: posts and pages. POSTS are really only relevant when you're talking about a straight up blog, online journal. New post on July 1st, here's my diary entry. New post on August 1st, diary entry.
A PAGE is navigation. On a blog you're talking about "Contact Me" pages, "About Me" pages, "Best of This Blog" pages. The Contact Me page doesn't have a date on it, it's just there.
I like to think of posts as journal entries going top to bottom, pages as going left to right.
Component #2:
Paper Template
(Frontend Sales Page, Download Page, Optin Page)
That's where Paper Template comes in. Using WordPress, you can install our "Paper Template" plugin which will allow you to create a "piece of paper" looking landing page in addition to your blog.
For example, I have my blog at RobertPlank.com, and I can create an additional PAGE at RobertPlank.com/free that's a landing page, a forced optin page, and I don't have to "link" it from anywhere else on my blog if I don't want to.
This landing page is called an OPTIN PAGE which is that white piece of paper with a headline explaining some freebie I'm giving away (like a short report), three bullet points (explaining the short report), a sentence telling someone to fill in the form below, and an optin form to enter in their name and email address.

They fill it in, they get that bribe in exchange for their name and email address and they can UNSUBSCRIBE at any time.
If I really want to make money I can install WordPress at the "root" of a domain, the .com, like WebinarCrusher.com, and then install Paper Template onto that WordPress site, create a "paper" page and then set it as the front page of the site.
So someone goes to the "root" of WebinarCrusher.com, they aren't looking at an HTML web page where I had to edit CSS code and upload images, they're looking at a WordPress PAGE that I edited (it just happens to be the front page).
Not sure what to place on that sales letter? Glad you asked… Paper Template has a 1-click pre-written sales letter. It drops in all the basic components you need on a sales letter…
3-part who-else headline, 3-part anticipation subheadline, establish the problem and alternatives, huge breakthrough, vague solution, solid solution, detailed explanation, who's it for, how it's delivered, breakdown of each module, offer stack table, price reveal, guarantee certificate, priority order form, all that good stuff.
Don't be overwhelmed. Just delete what you don't need and edit the headlines and text of what's remaining… by the way, Paper Template also comes with pre-written headlines and bullet points so you can drop in what you need anywhere and just fill in the blanks.
Instead of confusing ourselves with 10, 20, 30 different types of landing pages (Under construction page??? Coming Soon page? Sold Out page?) let me make it simple for you, Paper Template has these "types" of web pages (almost identical but with different placeholder text written in):
Optin Page (ask for an email address)
Sales Page (present an offer and ask for the sale)
Webinar Signup Page (let's skip this, it's just a fancier 1-click optin page but for a webinar)
Webinar Replay Page (also skip this, it's a "wider" version of our piece of paper with nothing on the page but a headline, video and link to go to the sales page after they're done watching)
Download Page (piece of paper web page with no links to it that offers a PAID product for download)
Gift Page (same as above but it's a FREE product for download after someone registers on an optin page)
Let's get to it…
I'm going to explain a few steps that I take when setting up these funnels so bear with me if I'm brain-dumping a few things at you:
Register a .com domain name (cost is $10) that contains your niche keyword and a filler keyword, for example, WebinarCrusher.com contains the word "webinar" but I can't register Webinar.com so I go with WebinarCrusher.com
Install WordPress and Paper Template and set a "sales letter" (one single piece of paper template that explains an offer with nothing else to do at the bottom other than buy) with a payment button on the bottom (we prefer PayPal). You can check a box in your Paper Template settings to make this the front page, as in WebinarCrusher.com
Set the "download link" someone goes to after paying (this is a setting in your PayPal button) to WebinarCrusher.com/download123xyz — this will be another of our WordPress PAGES — we can always rename or move to a membership site later but it's keep it simple. The front page is the sales letter, this "download123xyz" will be a page with videos or links to PDF files where they download our course
After creating that button, go back to your WordPress site and create a new page with the "Download Page" template (which contains verbage like what they can expect to see on their credit card statement, delivers the download, links to an upsell, etc.
Only four steps to have a web page that promises something for sale and delivers that download.
I know people geek out about things like a "video sales letter" — guess what happens with those these days? They find no one's going to sit through a 90 minute video like they did a couple years ago, so they add a couple bullet points under it… more headlines… an offer stack. Next thing you know, it's a long form sales letter, should have used Paper Template.
OR you might see "web 2.0″ web pages. They're very wide, taking up most of the computer screen (good luck making that look good on a tiny phone screen, Paper Template is responsive).

These web 2.0 pages will usually have lots of columns (not too great for readability and the "bucket brigade" trying to pull them to the end of your sales letter).

Usually they'll have one color background for the first chunk of the page (like blue) and then a different background color dividing the rest of the page (such as a white background)… so it's more or less a long form sales letter, only wider, and with two different background colors…
Either way, I believe that the TEXT on a web page is more important than your design or even fancy video — ugly pages sell. I wish for my own ego's sake that wasn't true but that's what I've observed since making these "paper template" web pages.
If you want to get really fancy then here's how I build out my funnel for a FRONTEND site:
Install WordPress on the .com level like WebinarCrusher.com: this one WordPress site will hold all my PAGES like the sales page, optin page, download page, etc.
I create a "sales page" Paper Template page and set it to the front page of the site: WebinarCrusher.com
Add download page at WebinarCrusher.com/download123xyz: so WebinarCrusher.com -> WebinarCrusher.com/download123xyz
When you're ready to setup an optin page (which I like to do for cold traffic), then you'll create a "gift download" page. I prefer to either paste three EzineArticles into a Google Drive and save as a PDF, or grab a YouTube video (even one of my own) as a free gift. This just delivers something for free (hidden from navigation) and links to the sales letter at the bottom: WebinarCrusher.com/gift-download -> WebinarCrusher.com -> WebinarCrusher.com/download123xyz
Now we need to create a page that asks for the optin at WebinarCrusher.com/free. Don't worry, it's just a click away. Explain the free gift on a SHORT web page (with three bullet points) and use an autoresponder service such as Aweber to collect their email address: WebinarCrusher.com/free -> WebinarCrusher.com/gift-download -> WebinarCrusher.com -> WebinarCrusher.com/download123xyz
If I want to get fancy and create something like an upsell page, I just create another "sales page" template in there at WebinarCrusher.com/offer and I could change the funnel sequence to:
WebinarCrusher.com/free -> WebinarCrusher.com/gift-download ->
WebinarCrusher.com -> WebinarCrusher.com/offer ->
WebinarCrusher.com/download123xyz
An upsell page is nothing more than a web page with a button to buy and an additional link under that button saying "No thanks, take me to my download page."
If I wanted to create a membership site in the future, I would use something like Member Genius and setup a SECOND WordPress site at WebinarCrusher.com/members (and have all my protected content in there) and setup the payment button to go to the registration page for that membership site instead of just "WebinarCrusher.com/download123xyz" but let's not get TOO technical…
Once you have that funnel setup you can do lots of interesting things like add countdown timers to those optin pages and sales letters (sparingly) which is built into Paper Template…
You can make use of re-usable "snippets" of code, for example if you want to place tracking codes on different pages or different payment buttons (we like to offer a 1-pay and a 5-pay payment plan on most sales letters) — also built into Paper Template.
Paper Template will also manage your on-site and off-site redirects. You could for example, cloak your affiliate link, redirect an old deleted page to something new, or even shorten some of your own affiliate's links, and track the clicks over time — built in.
Click Here to Download "Paper Template" Right Now
(Opens in a New Window)
But for now, let's just keep it simple!
Component #3:
Plugin Dashboard
(Install & Update Plugins)
Real quick, the final piece that ties it all together. When creating one of these new sites from scratch I like to use Plugin Dashboard to drop in all the plugins I need in one go.
I'm talking about your security plugins, SEO plugins, backup plugins. I'm talking about all the "little things" you always forget to do in WordPress like setup the link structure, set the sitewide title and contact email, and yes, even install plugins like Paper Template.
There is a "Paper Template" checkbox inside of Plugin Dashboard. The only information you need to give it is your license key and license email address (it automatically fills it in if you have that open in another browser tab) and it pulls it down from the cloud, activates it and you're ready to click your way into sales funnels and profits using WordPress.
Tools You'll Use
WordPress (free and installs easily using "SimpleScripts" in most web host control panels)
Paper Template (just $47 for the Ultimate version and allows you to create & manage WordPress landing pages)
Plugin Dashboard (just $17 and installs & updates your plugins)
Click Here to Download "Paper Template" Right Now
(Opens in a New Window)